Vegan Things I Bought That I Love
So Mindy Kaling (Kelly from The Office [my favorite character]), writes this blog called Things I Bought That I Love.  And while I find it entertaining, I don't actually get much out of it because a) she has more money than I do and b) I am not into shoes or makeup or things like that.  I have bad ankles and can't take a single step in any heel, so the allure of cute shoes does nothing for me.  I can't put on eyeliner without looking like a mall goth reject, so there's that.  And I hate clothes shopping because I know cheap clothes are usually cheap for a reason, and I am a cheap person.  I get all of my jeans at Goodwill because i'd rather pay $5 for someone's cast off American Eagle jeans than $15 for a crappy new pair from Walmart.
So with that, I present to you, Vegan Things I Bought That I Love.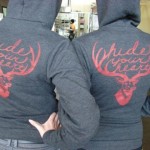 First up, is the newest hoodie from Herbivore.  I usually don't like zip-up hoodies because I can't fiddle with my hands in the middle of the pocket, but I was drawn in by the promises of fleecy warmness.  That's kind of important when you don't own a real coat.  It doesn't usually get too cold in Tennessee, but when it does this hoodie keeps me nice and warm.  I also like it because it doesn't have a totally in-your-face message on it that would get me heckled around here(I am a sissy).
I have a lot of vegan cookbooks.  Probably 20, plus some zines.  I have read all of them, but a lot of them have been used once or not at all because, as i've mentioned I suck at following recipes and planning ahead, and because sometimes the ingredients list is so long it makes my head spin.  One of the few cookbooks I have that gets regular use (mostly from memory at this point), is Yellow Rose Recipes.  The recipes are pretty simple and straight forward without giving me that, 'I don't need a recipe for a freaking bean burrito' feeling.  I loved it so much that I got my tester copy, and then bought two for friends and family.  I am getting hungnry looking at the cover so i'm going to scroll down to the next thing.
Last week, I needed some soy curls and stuff so I put in an order at Cosmo's Vegan Shoppe in Atlanta.  I love Food Fight as much as anyone, but if you're living in the southern part of the country, Cosmo's will hook you up in 2-3 days.  I saw that they had these cheap little chocolates, so I decided to order one of each and give them a try.  Imagine my happy surprise when I found that little baggie to the left in my box with extra chocolates AND a stick of lip balm that tastes like the inside of a hazelnut cream.  (Am I the only one who almost always types out 'lip blam' by mistake?)  Anyway, the chocolates were pretty delicious, and they're only .30 cents a piece (less if you buy in bulk), so they'd be good to give out at weddings or Easter or any other holiday where you might give people candy.  The only one I wasn't crazy about was the ginger, and I can't even say why, it just didn't do it for me.  Next time I need to stock up on soy curls (so like, next week) i'll be getting a few more of the caramel and mint ones for sure.
And speaking of soy curls, have you tried them?  They're pretty excellent, and about as un-processed as you can get.  They're kind of like TVP in that you soak them in water and flavor them, but they're in strips and in the end, taste way better.  You can get them at Cosmo's and Food Fight!
The rest of this stuff isn't for or by vegans per se, but still stuff that I love.
Bitch Baraometers!  Your friends and family will thank you when you give them proper warning about what they're getting into.  Plus, they might come bearing chocolates just to make sure you don't rip their damn heads off.  These are one-of-a-kind and she only has a few left!  (Mine is flipped to the flaming uterus right now, if you care to know.)
Cakespy cupcake paintings!  I have six of the mini paintings, and I was lucky enough to snag the original of the 'Yes We Cake' painting.  I like them because even though they're small, they're affordable original art that brightens up my home.  Plus, Jessie is awesome about commisions, I asked her to do a painting for a friends wedding and named the price I had in mind, and she asked me lots of questions and showed me sketches to make sure everything was perfect before going ahead with the ink and color.  Some of them are very simple, like Cuppie drinking a soda, and some of them are pretty detailed like the one on the right that I wish was mine, but it's not.  She occasionally does vegan baking paintings as well.
Technically I didn't buy this, but my mother-in-law got me an Aerogarden for Christmas and it is so.  Fucking.  Awesome.  My little herbs are only 2.5 weeks old, but they're growing pretty fast.  I swear one night, the basil doubled in height.  The one she got me has three spots to grow stuff, so it's more affordable than the big ones they show on the infomericals.  And the grow light doubles as a good light for food porn!  The batch of herbs going now should last me until summer, and I think I might get a second bigger one in the fall so I can grow tomatoes all winter!  The only downside is that the light is really bright, and it cycles on automatically so I have to close the bedroom door most of the way to be able to sleep since it's on the dining table.  Curse you, open floor plan.
And finally:
Best $20 I ever spent!  Chester had his honorary birthday a few weeks ago, he's now eight.  He is one of the happiest, smartest dogs I have ever met.  If he's not smiling, he's probably asleep.
P.S.  Bonny is not on this list because I got her for free because she was defective!
posted: 09 January 16
under: animals, art, lists, pictures, products