Things I've Bought That I Love: Summer 2010 Edition!
[insert lame excuses for not blogging here]
At this current time, I am still in love with summer.  In a few more weeks, it'll be too sticky and hot to even look outside during the day, but for now, I am enjoying biking and gardening and even (gasp) going to work and running errands.  So what have I bought that is making summer totally fucking awesome?
My regular bike (which is just Brian's sisters old bike) is in storage, so I put out the word that I was looking for a bike to use until I got mine back, and that I was willing to do a little tuning up on it.  I braced myself to get offered crap (because really, what can you expect when you ask for something for nothing?), so imagine my surprise when a family friend offered up this sweet thing.  It had been hanging in his garage for ten years, unused!  At first he said it was just a loaner and wouldn't even sell it, but I guess he changed his mind, possibly because he found out it cost me $130 to get it back on the road (totally worth it).  Green isn't my favorite color, and it has someone's name carved all over it, but whatever!  We put a basket on the back and now I can ride it to the grocery store and the health food store and use my vinyl bags and feel extra smug!
I went to St. Louis on a day trip and discovered that the Whole Foods sells Chicago Diner cake!  I've eaten at the Chicago Diner twice, but never got dessert (I was full and both times was going somewhere un-cake-carrying-friendly immediately afterwards), so I was super excited!   So excited, I got two pieces of cake and a piece of cheesecake.  All of them were amazingly delicious (but I learned i'm not big on cheesecake), and i'm really glad that St. Louis is so far away so I can't freebase cake all the time.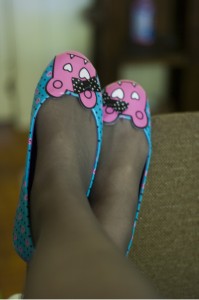 These shoes!  My Sketchers slides were literally falling apart, and I needed a new pair of slip on shoes.  Something comfortable and simple that I can get dirty and wear until they also fall apart.  Well, I saw these and squeaked and bought them!  And I normally don't give a crap about shoes!  They're by Draven, and these particular shoes don't seem to be available anymore, but they still have a good selection of vegan shoes!  I wouldn't garden in them, but they're fairly comfortable and I can wear them to work, so that's all that matters.
I also bought these, so now i'm set on shoes for the next two years.
Okay, I bought this bag months ago, but I would be an awful person if I didn't post the bag that kittee made for me!  I've been rocking the same $20 denim purse for five years, and I decided it was finally time to retire it.  I also decided that I wanted a bag big enough to shove my laptop in, so I asked kittee to do a commission for me and she did!  She asked lots of questions, and even told me I could return the bag if I didn't like it, but I love it!  Kittee has a few pre-made bags in her etsy store, if you want your own.
And finally, some summer jams.  I like to listen to sad bastard music in the winter, really energetic stuff in the spring, but when it gets hot I like things that are still upbeat but a little more mellow.  These both came out in March, but they are excellent for a laid back summer!  The concept of an album where one band covers one other band seems kind of lame, but The Bird and The Bee do it really well.  And really, you can't do bad with Hall and Oates!  Or maybe you hate the eighties and awesomeness so you're not really familiar with Hall and Oates, in which case, get acquainted!