VeganMoFo: Kill Bill (1 & 2)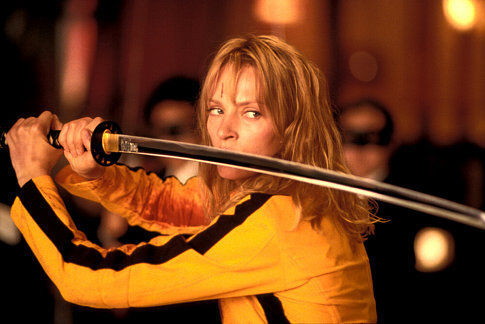 You wouldn't like her when she's angry.
So i'm sure even if you haven't seen Kill Bill (for some unknown reason like you don't own a tv and you can't put dvds in your computer and you never go to a friends house who has a dvd player or you just hate movies), i'm sure you know what it's about. In a word: revenge. Uma Thurman (aka The Bride) wakes up from a coma after being shot in the head. Everything she had before, gone. So she makes a list, checks it twice, and goes on a revenge killing spree!
I believe this movie (i'm lumping both together as one here) is what some random newspaper quotes would call a "non-stop thrill ride". The blood and gore are over-the-top ridiculous on purpose, as an homage to 70's martial arts films. I want to keep gushing but we would be here all night so 1. Check out this list for a refresher on why you should watch Kill Bill rightthehellnow and 2. I can't believe they left off the Pussy Wagon!
Starring Uma Thurman (Pulp Fiction, Batman & Robin), Lucy Liu (Ally McBeal, Charlie's Angels), Vivica A. Fox (Set It Off, lots of tv), Daryl Hannah (Blade Runner, Splash), David Carradine (Kung Fu and many, many other things) and Michael Madsen (Resevoir Dogs). P.S. If you like listening to Michael Madsen talk as much as I do, he has done a lot of movies and many of them are available on Netflix, I recommend The Killing Jar.
Entree: This movie is a pretty big Captain Obvious as far as menu selection goes, so it will come as no shock as I present a video on how to make sushi. It's fun, easy, and makes a great party food! If you're stuck on the basic veggie roll, here are some fun ideas to try.
Entree 2: Udon Noodles with Sesame Umeboshi Sauce and Tofu, a salty dish for the rock salt that get's shot into The Bride's chest.
Dessert: My grandma took me to my first wedding when I was a kid, and they served Red Velvet cake. Ever since then, that's been stuck in my head as THE wedding cake.
posted: 12 October 3
under: veganmofo